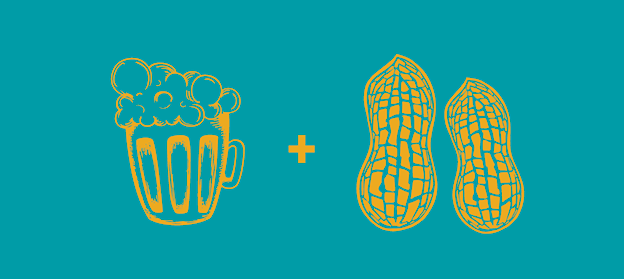 ---
ARE YOU A BEER NUT!?
OR
Do you enjoy drinking beer for reasons other than having an excuse for your low standards? Other than the good buzz after a long day at work? Do you like it for its unique qualities & tastes?
Beerfoot offers over 100 selections of beer to satisfy your cravings, and when you select to be a Beer Nut you pledge to be a part of a select community opting to enjoy each of these varieties. How does being rewarded for your beer obsession sound?
When you become a Beer Nut, you're not only informed of exclusive Beer Nut events and discounts, but you qualify to earn points on every beer you drink towards some stylish beer swag! From koozies to pint glasses to vacations, being a Beer Nut has PERKS!
HOW DO YOU BECOME A BEER NUT?!
To become a Beer Nut, pay $18 and fill out an application on your next visit! Information must include: Name, DOB, Address, Email, & Phone Number. In return you gain benefits of being a Beer Nut, a BeerFoot T-Shirt, and a magnetic card to keep track of your points.
Once you have a card, register it on this page!
BENEFITS INCLUDE
Member-Only deals and updates via the Monthly Footer newsletter

VIP early Access to Beer tasting events at BeerFoot (try the best beers before they are gone!)

VIP early access to the annual Yaga's Chiliquest & Beerfest (100's of craft beers for your liking!) - Ticket purchase is necessary.
REWARD SYSTEM
When you become a Beer Nut you become eligible to earn points on every beer you drink! Simply hand the bartender your Beer Nut card at check out to collect 1 pt. (2pts on Fridays!) on every dollar spent!
When you gain enough points for items below, go up to your bartender and ask to purchase an item with your Beer Nut points! Must pay sales tax on items purchased with Beer Nuts points.
Mardi Gras- February
Galveston Mardi Gras Tickets (170)
Krewe De Yaga's Tix (Float & Balcony-1000)

Shrimp Fest- September

Shrimp Fest Sponsor Dinner (500)
Shrimp Fest Gumbo Cup (120)
Shrimp Scamper Registration (300)

Chili Fest- January

Chili Tasting Cup (100)
Chili Pepper Quick Step Registration (300)
Chili Tasting & Beer Tasting Tickets (300)
VIP Beer Tasting Tickets (500)
Wine Festival- April

Wine Fest Tasting Tix (250)
Winefest Premium Night (800)
Wine fest Grand Tasting & VIP (450)

Beerfoot

Brewery Pint Glass (100)
Koozie(40)
Beer Tasting Tickets (250)
Growler (75)
Gus the Party Bus Rental (6200)
Ohana
FlipFlops (400)
Dot Dash Sunglasses (400)
Shortboard (6000)
Longboard (10,000)
Surf Camp (1300)
$10 Lunch at Yagas (100)
$10 Lunch at Float (100)