MARGARITA MENU
2018 Yaga's Chiliquest Jackpot Margarita Contest Champion- $12
Team RumRunner
The margarita features Patron Silver Tequila, pineapple juice, fresh lime, and a House-made Chili Citrus syrup with a sweet and spicy salt rim!
TSUNAMI- $9
1800 Silver, Cointreau, Pama Pomegranate Liqueur, fresh lemon and sweet & sour
SURGE- $11
Casamigos Reposado, fresh lime, agave syrup, splash of orange juice, sweet & sour and topped with Grand Marnier
ROSA RITA- $10
Blue Nectar Silver, mango puree, Roses lime and cranberry juice
JALAPENO MARGARITA- $9
Avion Silver, jalapeno syrup, fresh lime and sweet & sour
MARGARITA MOJITO- $9
Milagro Silver, raspberry puree, house-made mint syrup, fresh lime and sweet & sour
TSU-MAMI-$9
Don Julio Silver, Grand Marnier, fresh lime juice and agave syrup
PLATINUM MARGARTIA- $25
Patron Platinum, Patron Citronge, agave and fresh lime
MARGARITA MY WAY- $10
Your choice of any Dulce Vida Tequila and any combination of: Raspberry or mango puree, Sweet & sour, orange, pineapple or cranberry juice Grand Marnier, Cointreau or Pama Pomegrante Liqueur, Fresh lime, lime, or pineapple garnish
LA BANDERA - $6
First a shot of fresh lime, followed by a shot of Cazadores Silver and finished with shot of seasoned tomato juice!
VIVA MEXICO!
---
APPETIZERS

Hungry? No worries, order from Yaga's Cafe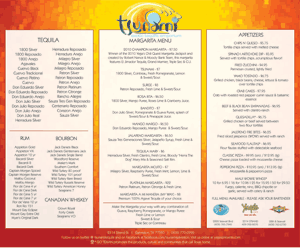 DOWNLOAD THE MENU TO YOUR DESKTOP
---
TEQUILAS
1800 Silver
1800 Reposado
1800 Anejo
Avion Silver
Avion Reposado
Cabo Wabo Silver
Cazadores Blanco
Cazadores Reposado
Cazadores Anejo
Corzo Silver
Chicano Reposado
Corzo Anejo
Corzo Gold
Corzo Gold
Don Eduardo Silver
Don Eduardo Anejo
Don Julio Silver
Don Julio Reposado
Don Julio Anejo
Espolon Reposado
Herradura Silver
Herradura Reposado
Herradura Anejo
Los Amantes Mezcal Silver
Los Amantes Mezcal Reposado
Milagro Silver
Milagro Reposado
Milagro Anejo
Milagro Single Barrel Select Silver
Milagro Single Barrel Select Reposado
Milagro Single Barrel Select Anejo
Patron Silver
Patron Reposado
Patron Anejo
Patron Platinum
Republic Plata
Republic Reposado
Sauza Tres Gen Silver
Sauza Tres Gen Reposado
Sauza Tres Gen Anejo

RUM
Appleton 12yr
Appleton Gold
Appleton VX
Bacardi 7yr
Bacardi Gold
Bacardi Select
Bacardi Superior
Bacardi Solera
Captain Morgan
Cruzan White
Flor De Cana 4yr White
Flor De Cana 4yr Dark
Flor De Cana 5yr
Flor De Cana 7yr
James Harbor 151
Malibu Coconut
Meyers Original Dark
Mount Gay Eclipse
Mount Gay Extra Old
Ron Zacapa

BOURBON
Jack Daniels
Jack Daniels Gentlemen Jack
Jack Daniels Single Barrel
Jameson
Jameson Gold
Jim Beam
Knob Creek
Makers Mark
Red Breast 12yr
Seagrams 7
Southern Comfort
Southern Comfort Lime
Wild Turkey 101
Woodford Reserve
SCOTCH
Chivas
Dewars
Glenlevit 12yr
Johnny Walker Black
Johnny Walker Red
CANADIAN WHISKEY
Crown Royal
Forty Creek
Seagrams VO
VODKA
Absolut
Absolut Citron
Belvedere
Deep Eddy Sweet Tea
Grey Goose
Ketel One
Pinnacle Flavors
Skyy
Stoli and Stoli Flavors
Svedka Flavors
Three Olives Flavors
Titos
UV Cake